There is a lot of great skin, and scuba diving in East Hawaii...
Swimming and Skin Diving
The Big Island boasts several unique swimming options from volcanically heated waters, fresh water, fresh water/ salt mix, and of course salt water. These one of a kind ecosystems include many diverse and even endangered animals you will only find in Hawaii.
Swimming off the Big Island's shores, the warm Hawaiian Pacific waters is a heaven-like experience. Diving among exotic fish, sea turtles, and glorious waves will definitely bring a smile to your face. There are a variety of beaches, tide pools, and natural aquatic delights for everyone.
Swimming in harmony with the marine life in the coastal waters can provide you with a profound long lasting connection with nature. Swimming with pods of wild spinner dolphins, frolicking and playing with the friendly creatures is a joyful, life-changing moment.
Imagine floating on salty, buoyant waters while gazing down upon a family pod of 18 beautiful dolphins. The peaceful blue tranquility surrounds you, as you gracefully glide past a powerful mother and her young offspring. Laugh with pleasure as the wild playful spinners jump out of the water at high speeds, then slam down in front of you with fantastic energy.
Upon returning to shore, your entire being is filled with love and there is not a trace of negativity in your mind, body, or spirit. The memories of interacting with free spirited dolphins will stay with you for a lifetime. J.G.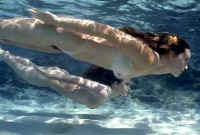 Scuba
There are several First Class scuba sites on the Big Islands Eastern Beaches. The windward side of the Island provides extremely clear waters, and an extensive specie population. There are many places to dive, as 50% of Hawaii is underwater!